WELCOME TO THE CROSSROADS.
Where magic can transform a show
and love can change your destiny.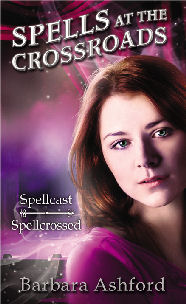 SPELLS AT THE CROSSROADS
Now available from DAW Books.
The omnibus edition containing
both SPELLCAST and SPELLCROSSED.
"Spellcast and Spellcrossed are beautiful and wonderful stories about the love of the stage, finding where you belong, and helping others. The stories show how love is difficult when both parties are still letting their past haunt them. Together they are a tale of redemption and hard choices, atonement for mistakes and standing up for what you believe in, even if you are standing alone. Brava!" Read the whole review at The Quillery.
"If you like gentle fantasy, cozy mysteries, and screwball romance, and a backstage look at show business, these stories will fly you into your happy space." Read the whole review at Kings River Life Magazine.
Buy on Amazon
SPELLCAST

Winner of the 2013 Washington Irving Award
Before you can figure out your future,
you have to understand your past.

"Four stars." Romantic Times Book Reviews
"Packed with mystery, emotion and wit, Ms. Ashford's debut is so unexpected and original. It's about letting go, learning to forgive, and opening your mind to embrace the impossible." New York Journal of Books
"[A] charming fantasy novel. Maggie Graham is enchanted and bemused by the Crossroads Theatre in Vermont, from the quaint locale to...its mysteriously charming director, who has a magical knack for pulling great performances out of an inexperienced cast...A slightly bittersweet but appropriate conclusion left me wanting more, in fine theatrical tradition." Locus
"There's a vast but little known overlap between fans of fantasy and fans of musical theater, and Barbara Ashford hits the sweet spot on both with Spellcast. It's warm, humorous, emotional, heartfelt, and full of magic. Curse you, Barbara, for making me cry! And for getting 'Some Enchanted Evening' stuck in my head all week." Carrie Vaughn, New York Times bestselling author
"A surprisingly poignant novel that vividly ensnares the reader in the alluring ambience of make-believe. Ms. Ashford...takes a traditional theme and breathes life and dimensionality into it. A truly enjoyable fantasy woven by an author with a deft touch at creating a realistic and emotional love story." Read the whole review at Night Owl Reviews.
"One of those rare gems of a fantasy novel, Spellcast is an original, something completely unique in the pantheon of novels I have read over a lifetime. It is a love story, a fantasy, a mystery, and a theatre book all rolled up into one…" Read the whole review at New Myths.
Buy on Amazon

Buy on Barnes & Noble

Spells have a way of coming back to haunt you...

Library Journal's June 2012 "standout" novel





My Bookish Ways' Top Twenty Novels of 2012

Night Owl Reviews "Top Pick"
"[The] deft mix of magic and...interpersonal problems creates a mesmerizing read. I can only hope that there will be more tales set in this enchanted corner of the world!" Read the whole review.

"Spellcrossed is whimsical, lyrical and one hell of an emotional journey. You feel like the characters are real people. You root for them, you cry for them & your heart feels heavy when you are finished reading because damn it you want more." Read the spoiler-free review at Wicked Little Pixie.

"Spellcast had me spellbound, and Spellcrossed was no different. [It] moved me to tears more than a few times, and was equally heartwarming and heartbreaking. I can't recommend this series highly enough!" Read the spoiler-free review at My Bookish Ways.

"Fantastic sequel in a magical, emotional, heartwarming series. [It's] an emotional roller coaster full of surprises, both good and bad. If you're a fan of romance, vivid writing, well-crafted and relatable characters, then I suggest you give Ashford's series a try, starting with her debut Spellcast." Read the spoiler-free review at Addicted to Heroines.




"[Spellcrossed] hit hard and perfect. Ashford's skillful, heartfelt writing wrung smiles and tears from me in equal measure. It is a book about bonds and family...a romance between a human and something Other...a book that exults in human imperfections, the beautiful way they all manage to fit together into something magnificent." So Many Books, So Little Time

"...an enjoyable and well-paced read. Maggie continues to be an extremely relatable protagonist." Romantic Times Book Reviews

Buy on Amazon

Buy on Barnes & Noble